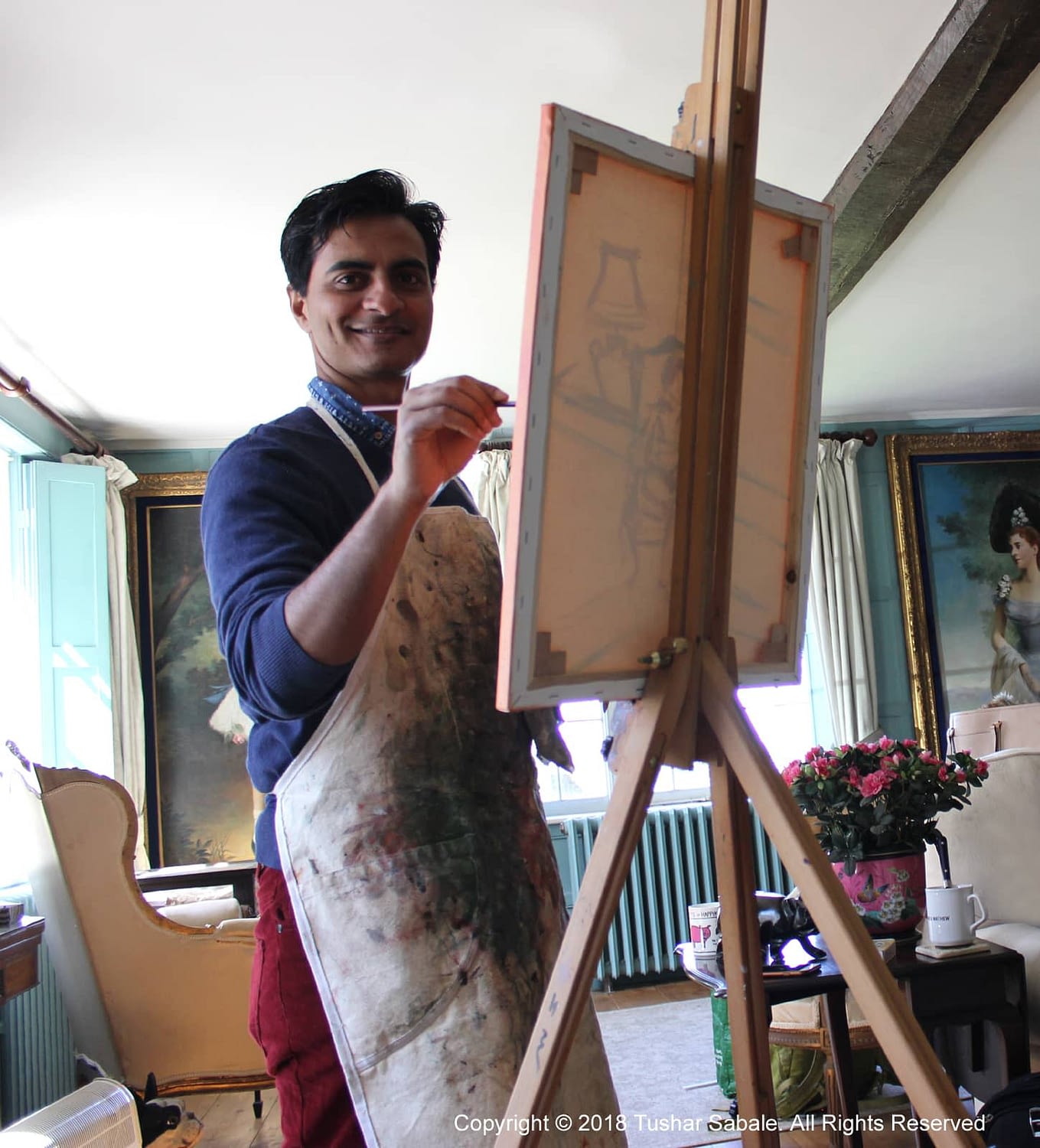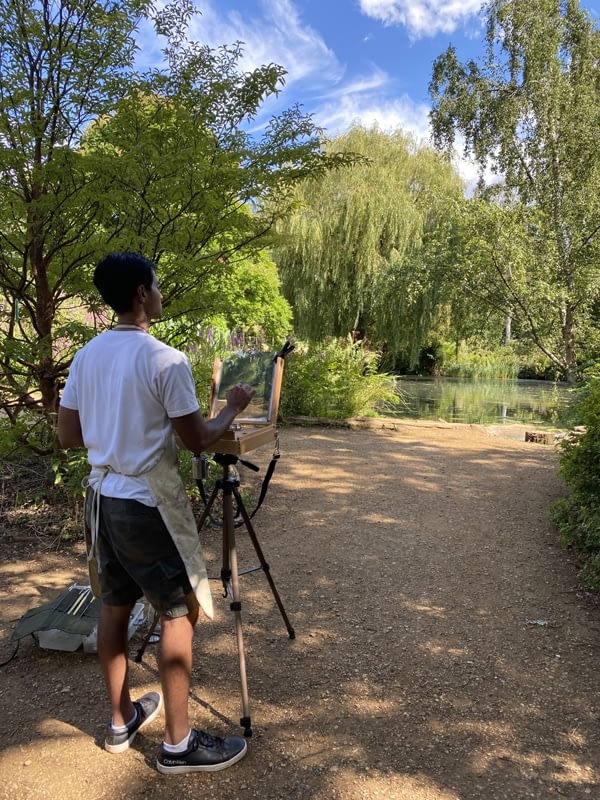 About Me
Tushar Sabale is an Indian born, British artist based in London. His subjects to paint vary from everyday objects, still life, figuratives, landscape and portraits. He does enjoy painting plein air and mostly paints in oil colours.
He places his work between Impressionism and Realism with some Luminist touches.
"I attempt to allow the viewer to see the essence of the subject in my paintings, while still providing imaginative interpretation. The use of chiaroscuro and a wide range of colours has become my distinctive style of painting".
Tushar grew up in the Indian suburbs surrounded by lush green farms and vineyards. He was taught the basics of art under his guru and art professor, Girish Sahadeo, but also gained a lot of his knowledge through independent study and practice. His artistic talent became evident in the very early years of his life. Annual summer vacations at his grandparent's countryside home were very inspiring to the young artist who spent most of his time drawing and sketching the scenery, always managing to capture the rustic allure of the Indian countryside.
At the age of just 12 years old, Tushar won first prize in a Drawing Competition amongst 1 million students who participated that year across the whole of India.
A year before that at the age of 11, he was amongst the top 2 winners in a similar national level painting competition and has continued to win many state, national and international awards for his paintings.
His passion in the field of art led him to choose Architecture at university. After completing his Bachelor's degree, he decided to further explore art in the field of Design and thereafter undertook a Master's Degree course wherein he studied Product Design, from one of the leading institutes in India, The Indian Institute of Technology, New Delhi.
Tushar embarked on his professional career as a Creative Designer, designing watches for multinational brands like Timex as also other such companies. His move to London in 2006 saw him working for a design patent company that helped aspiring designers to conceptualise their ideas into working products. His experience also includes designing pieces for Hollywood movies while as a designer for a high-end jewellery brand.
Even with his professional success as a designer, there was something Tushar had ignored which was his innate need to paint. After few years of sabbatical, he rekindled his love affair and went back to his canvases and paintbrushes and has not looked back since.
In the past few years he has had three solo exhibitions in London which were all great successes and been in many other group exhibitions. His work was widely appreciated which has aided in securing him many commissions from art lovers and has rightly boosted his career as an artist.
In the summer 2018, Tushar Sabale had his Solo Exhibition at the Nehru Centre gallery, the cultural wing of Indian High Commission in Mayfair London. In this exciting new body of work the artist has departed from his usual contemporary flamboyant style and  reinvented himself looking into the elements of classical art as an inspiration.
The exhibition titled 'Chiaroscuro' (Italian for light and dark) that ran for two weeks mainly focused on unveiling  three commissioned portraits of three important women; a Royal, Her Highness Princess Olga Romanoff , a Royal Biographer and ex-model, The Hon. Lady Colin Campbell and a Business woman and the editor of Mayfair Times, Selma Day.
Still Life Paintings (flowers fruits and vegetables) painted from Tushar's own grown garden, , were also on the display.
Tushar Sabale is a keen gardener and when he is not found in his studio, it is easy to spot him in his garden. This passion can clearly be seen to influence his artwork. Gardening is not an amateur pursuit for him, in fact, he takes pride in nurturing and producing enough vegetables for his family to the extent that he believes they might soon stop going to the supermarkets.
He reiterates what Monet believed that 'Gardening is the best way to avoid thinking about all the sad times'. It offers him a peaceful guard and is a source of inspiration for his art.
In 2020 Covid-19 Lockdown, Tushar has started to document his life through series of lock down paintings on everyday topics and activities around him to demonstrate how the world kept itself busy and going during the lockdown.
Tushar's paintings form a part of many private collectors and corporate galleries. He is one of the few contemporary artists who has painted portraits for the Royals and the A-listers of the British society.
Tushar Sabale is also involved in raising funds for many charities through his paintings and creative works.
Exhibitions
Solo Shows:
-Solo Exhibition 'Chiaroscuro' at Nehru centre, Indian High Commission, Mayfair London– June 2018
-Solo Exhibition 'Sum of Impressions' at Nehru centre, Mayfair London– July 2013
-Solo Exhibition 'Memories' at Cadogan Hall, Russell Square London-November 2012
Group Shows:
– Mixed Summer Show at Russell gallery, Putney-July 2020
– Mixed Christmas Show at Russell gallery, Putney-December 2019
– Mixed Christmas Show at Russell gallery, Putney-December 2018
-'Tricks of Light' at Riverside gallery, Old Town Hall, Richmond, London– December 2017
– 'Nature and Objects staged' at Riverside gallery, Old Town Hall, Richmond, London– January 2015
– Group Exhibition at Contemporary Art Fair, London– January 2014
-Group Exhibition at Brent Art Resource, Willesden Green, London -October-November 2013
-Group Exhibition at States Art Gallery of Fine Arts, Hyderabad, India -June 2013
– Group Exhibition at Redlees Studios, Isleworth, London – April 2013
-Group Exhibition at Brent Art Resource, Willesden Green, London -March-April 2013
-Group Exhibition at IIT, New Delhi, India-2002
-Group Exhibition at Sap, Chennai, India-1998
-Solo Exhibition at HAL Nasik, India 1991 & 1990